---
Currently Recruiting for:

Termite Technician– click link to see job description and apply

Or to apply for all other jobs, for which we aren't actively recruiting, please Apply Here.
---
At Reliable Exterminators we pride ourselves on providing excellent service delivered by quality employees. We have a fast-paced, friendly, family owned and operated work atmosphere. If you are looking for a great place to work, consider the following reasons to work for Reliable Exterminators:
Local ownership: your boss works in the same office and doesn't report to other people higher up the chain.
Small business: only 15 employees, so everyone is important and you get to know your coworkers.
Team Environment: Office staff and technicians work together and respect each other to reach our goal – excellence.
Interesting work: learn about ways to keep pests out of homes and businesses to improve health, and work that provides a sense of achievement by helping others live pest free lives and protect public health and welfare.
Benefits: Competitive salaries and commissions, paid major holidays, vacation and sick time. Reliable Exterminators will also contribute to a retirement plan on your behalf!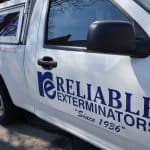 Working for Lafayette's #1 pest control company means lots of service calls, no outside sales, and no boring days!
We are always accepting applications for Service Technicians and Customer Service Representatives. Complete our application here. For specific openings, please follow the link at the top of the page to complete the application.
Hear it from a tech!
"Every job, every day is different.  We see a wide variety of clients/houses/businesses, and people are happy to see us!"  Bob Hanstra, owner and technician since 1975
"This job challenges and exhilarates you daily. It challenges you physically and mentally. It stimulates and refreshed you daily." Tom, technician since 2009
A Day in the Life of a Technician
Wonder what a day in the life of a pest control technician is like? It's nothing like the TV shows portray! We take pride in our work and do it with professionalism. We are protecting our community's health by preventing pests and treating when necessary.
Technician jobs aren't just for men!
We want to hire women technicians!  Most residential customers are women and more comfortable letting a female technician in their home.  Women relate better to other women and trust you and even give you more sales opportunities!  Check out this video about women in the pest management industry sponsored by our national association NPMA:

Want to know what it's like to work in the pest management industry?  Check out this video by NPMA: